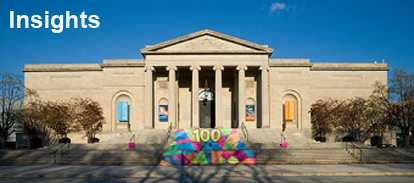 Grand Reopening of the BMA
In celebration of the Baltimore Museum of Art's 100th anniversary, the museum reopened the historic Merrick Entrance and renovated Dorothy McIlvain Scott American Wing on November 23, 2014 with a new presentation of its outstanding collection of American art, considered one of the finest on the East Coast.  Read more.
President Samuel Hoi Installed as MICA's 19th Leader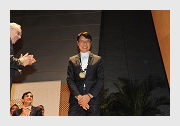 Baltimore City elected officials, college presidents, arts and education leaders, and members of the MICA  community gathered to honor President Samuel Hoi as the college's 19th leader during an official Presidential Installation Ceremony on October 31. "It is with a profound sense of privilege and responsibility that I accept this Presidential Chain of Office and medallion, and assume the presidency of this remarkable College," Hoi said. "This is not a new beginning but a continuation of all that is good, all that is right, and all that is relevant in what MICA has achieved for its students, for the city and for the broader educational field." Read more.
The Ward Museum of Wildfowl Art  has announced the new Soar to New Heights Capital Campaign 2014-2016. The Campaign will raise $1.5 million to support the expansion of the museum, including the 2,000 square foot addition of the John A. Luetkemeyer Sr. and Thomas F. Mullen Jr. Legacy Center. Donate or learn more.
The Columbia Festival of the Arts, a nonprofit that puts on a premier, three-week-long arts festival each summer, is poised to undergo a series of changes next year.  Instead of an annual 16-day event every June, the nonprofit will put on a series of three-day, weekend festivals throughout the year, one each season. Read more.
Strathmore  concludes 2014 with three simultaneous gallery shows in the Mansion: Time After Time, the 81st Annual International Exhibition of Fine Art in Miniature, and in the Invitational Gallery, Pastels Unleashed: A Mixed Media Approach, on view Saturday, November 22, 2014 through Sunday, January 4, 2015. Public education programs will enhance the visitor experience. Learn more.
A house built with no nails? Natalie Shutler, writing for The New York Times, profiles Vicco von Voss, a furniture maker, who used timber-frame construction techniques and trees on site to build his 1,400-square-foot house in Centreville, Maryland. The house is held together with wooden pegs. Read more.
In a recent article in Fortune, Google CEO Larry Page points to his musical education as inspiring critical elements of Google—especially his impatience and obsession with speed. Read more.
A recent Nielsen  survey shows that music is American's favorite form of entertainment. According to Nielsen, 93% of the country's population listens to music, spending more than 25 hours each week enjoying into their favorite tunes. Read more.
A randomized controlled study from the Crystal Bridges Museum of American Art suggest field trips to an art museum can boost observation skills and appetite for art, especially for underserved kids. Read more.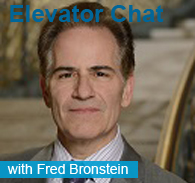 On June 1, 2014, Fred Bronstein, a musician, music educator, and chief executive of American symphony orchestras, became dean of the Peabody Institute of The Johns Hopkins University. Bronstein previously served as president of the St. Louis Symphony, the Omaha Symphony, and the Dallas Symphony Orchestra. A pianist, he toured for eight years as part of Aequalis, a chamber group he co-founded.
 
What are your goals for Peabody?
FB: In many ways, my goal is to broaden the vision of what the Peabody Institute is. I'm very interested in continuing to make Peabody as competitive other programs at Hopkins—which is not to say we're not [competitive], but I want to continue to see us grow.
I also want us to think innovatively. There's a huge opportunity for us to reach many more people through online activity whether it's master classes or classes or vignettes of students working with their teachers.
Finally, I think we need to think about community. We are part of this robust community around Baltimore, and sometimes it feels like we have been a little bit separate. This feels like a huge opportunity to partner, collaborate.
What is essential in preparing young musicians?
FB: My first job when I moved into the orchestra world was running the Civic Orchestra of Chicago, which is the training orchestra for the Chicago symphony. I enjoyed that a lot and recognized how important the training of young musicians is, particularly in the 21st century with an increasingly complex environment which can be difficult to navigate. Read more.